Plumber installs and repairs water, gas, and drainage systems in homes and businesses. They also maintain fixtures and appliances that are associated with these systems.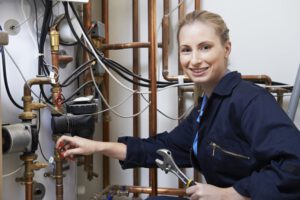 Most plumbers learn their trade through apprenticeship. Apprenticeships are usually four years long and include a combination of on-the-job training and classroom learning. The qualifications required for an apprenticeship vary by province and territory.
Plumbers install, repair, and maintain water, gas, and sewage systems. They also inspect pipes and fixtures to ensure they operate correctly. They may work in factories, offices, homes, and other places with pipes and water systems. They also work on new construction, mines, home remodels, and existing structures that may need repairs.
The job description of a plumber is detailed and requires technical knowledge. It includes reading blueprints and building specifications, interpreting electrical and mechanical drawings, understanding codes and regulations, and operating power tools. It also involves working in small spaces and climbing ladders to do overhead work.
Residential plumbers: As a residential plumber, you install, maintain and repair plumbing systems in your own home. You may also perform basic plumbing jobs, such as unblocking drains and installing toilets.
Sanitary plumber: As a sanitary plumber, you are responsible for clearing blockages in home sanitary systems. You also unblock sinks and bathtubs, repair blocked toilets and drains, and install water heating systems.
Commercial plumbers: As a commercial plumber, you provide services to schools, colleges, and businesses. Your duties include repairing and maintaining water tanks and pipe systems, removing waste from buildings, installing piping, and cleaning up after work is done.
Service and repair plumber: As a service and repair plumber, you install and maintain water and gas systems in both residential and commercial settings. Your responsibilities are similar to those of residential plumbers, but you have more advanced skills and knowledge about specific issues that arise in larger commercial buildings.
Journeyman plumber: A journeyman plumber is a highly skilled worker who works with water, gas, and sewage systems. Their job responsibilities include directing workers engaged in pipe cutting and preassembly, installing underground storm, sanitary and water piping, and extending piping to connect fixtures and plumbing to these systems.
You use hand and power tools common to the plumbing trade, and you are able to work in a variety of conditions. You also have to be flexible to deal with changing work demands. If you are hired to handle a house call at night, for example, you need to be able to get there quickly and solve the problem.
Plumbers work in the building industry, installing and repairing pipes that carry water or gases into and out of homes, offices, schools, and other buildings. Their duties require knowledge of plumbing codes and techniques, as well as the ability to use tools like welding torches.
There are several ways to get trained as a plumber, including through technical-school programs or apprenticeships. Most apprentices are paid as they train, and their employers cover their education costs. These apprenticeships often last four to five years, and they can be found through local trade schools, businesses, and union chapters.
A formal plumbing program offers classroom training in a variety of subjects, including OSHA safety, blueprint reading and drafting, piping methods, mathematics, and plumbing tools. It also includes practical experience, which is necessary for becoming a licensed plumber.
Upon completion of the coursework, you may have to pass an exam in order to receive your certification. You can then apply for licensing in your state. Depending on the state, you may be able to obtain a journeyman plumber license after spending two to 10 years working under a master plumber.
You can also obtain a master plumber license after earning a bachelor's degree in plumbing or another related field from a technical institute, community college, or vocational school. This will help you become more marketable to potential employers.
Many states require plumbers to obtain a license before working independently, and you can find out what the requirements are for licensure by checking your state's licensing board website. You'll need to meet a number of criteria, including being at least 18 years old, having a high school diploma or GED certificate, and completing an apprenticeship.
Once you've received your license, you can continue to develop your skills by taking courses in plumbing code, new technology, and other aspects of the trade. Some cities and counties also require continuing education for licensed plumbers, which can be a great way to keep your knowledge fresh and up-to-date.
Getting a master plumber license can be a challenge, but it is well worth the effort. This title is considered to be the highest in the profession and provides you with a higher salary, better benefits, and more opportunities for advancement.
Plumbers install, maintain and repair sanitation units, water and gas supply lines, heating systems, and associated fixtures and appliances in residential, commercial, and industrial buildings. They also perform diagnostics and ensure plumbing systems are in compliance with regulatory codes.
A license is required to work as a plumber in most states. In some jurisdictions, you can work as a plumber without a license, but it is highly recommended that you obtain one. It allows you to legally do business and earn a living, as well as helps prevent you from being ripped off by unscrupulous contractors.
If you plan to start your career as a plumber, you should begin by completing an apprenticeship program. This is the most efficient way to get the experience and skills you need. It requires you to work under the supervision of a master plumber.
The apprenticeship process usually lasts four years and consists of training in all aspects of plumbing, including the use of materials and construction. It is also an excellent way to gain the experience and knowledge needed to apply for a license.
A certification is a great way to promote your qualifications and to ensure that potential employers know you are a skilled professional. It can also help you to find jobs and increase your earnings.
In addition to the certification, you must also have a minimum of three years of work experience under a master plumber before you can apply for your journeyman license. This experience can be obtained by completing a plumbing apprenticeship or completing an approved college degree in a relevant trade.
You must submit a copy of your journeyman certificate, a letter from your employer stating that you have worked under a master plumber, and a certified record of your Social Security earnings. These documents should be submitted with your application and will be verified by the board before you can get a license.
Plumbers earn a good salary, but their wages vary widely depending on the city and state where they work. In some areas, a plumber's pay is well below the national average, and in others, it can be quite high.
The wage of a plumber depends on several factors, including the type of work they do and their experience level. For example, entry-level plumbers earn less than electricians or HVAC technicians, while master plumbers earn more than journeyman plumbers.
Many plumbers find it challenging to make ends meet. This is because the job involves long hours and a lot of traveling, so a plumber must make sure that they can support themselves and their families while working.
There are a number of ways to increase your income as a plumber, however. Some of these include getting certifications that are relevant to your field and taking additional training courses. These can help you increase your skills and show employers that you are qualified for the job.
Other things that can increase your salary as a plumber include getting a promotion or starting your own business. These are both difficult tasks to accomplish, but if you're willing to put in the time and effort, they can pay off in the end.
In addition, some companies offer goal-based bonuses to employees who complete specific goals. These bonuses are often paid out quarterly or annually and can help you increase your income.