Plumbing is an industry that uses pipes, valves, plumbing fixtures, tanks, and other apparatuses to move fluids from one place to another. These fluids are used in all sorts of applications. In addition, plumbing also uses specialized knowledge and certifications. You can begin a career in this field by completing a course in plumbing. For more details, please visit the Website.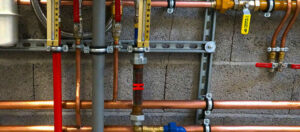 One of the easiest ways to make home repairs is by understanding plumbing basics. Plumbing is governed by the basic laws of nature, such as gravity and pressure. It also follows the law of level, meaning water always seeks its level. By understanding how your plumbing system works, you can save money and time by making simple repairs yourself.
Plumbing is an intricate system of pipes, vents, and drains in your home. While some parts may be familiar, others may be completely new to you. It's important to know where everything goes so that you can repair problems as soon as possible. Knowing the basic parts of your plumbing system will also ensure your home is properly vented and leak-free.
There are several types of plumbing systems in residential buildings, and they each serve a specific purpose. In urban areas, plumbing pipes connect to the city's sewer and water networks, which direct wastewater to treatment plants to keep drinking water fresh and safe. In rural areas, residential plumbing may be linked to local groundwater supplies or septic tanks. Depending on the location, different types of plumbing pipes are used, and some have been phased out.
Pipes come in a variety of materials, including copper, steel, lead, and PVC. Historically, lead and clay were used to transport water, but today, plumbing systems are largely made from cast iron, terra-cotta, copper, and galvanized steel. Here are some of the most common types of plumbing pipe:
Before buying pipes, learn about their benefits and drawbacks. Some pipes are better suited for certain situations than others. If you're building a new home, consider hiring a professional plumber to help you install plumbing pipes. Copper and PEX pipes are the most popular residential pipes, with PVC and Galvanized pipes less popular.
PEX, or polyethylene cross-linked polyethylene, is a relatively new material that is ideal for water supply lines. PEX is flexible and pliable, making it easier to maneuver compared to the rigid PVC pipe. PEX is also color-coded, making it easy to keep track of and identify your plumbing system.
Metal pipes are another common type of plumbing pipe. These are lightweight and inexpensive, but they can corrode if they're exposed to extreme conditions. For this reason, you should be very careful when installing them.
There are many career options for people who are interested in plumbing. Many plumbing specialists work independently, while some work for plumbing companies or factories. Others work for builders or construction companies. Plumbing professionals may work long hours, especially during economic booms and construction periods. Some may even work weekends. Since plumbing specialists are often on call for emergencies, they often don't have the best work-life balance.
Those who are looking to earn more money and have a stable career should consider a career in plumbing. The pay is excellent, the job security is excellent, and there are many opportunities for advancement. Plumbing specialists don't simply fix toilets and other fixtures; they keep entire cities, schools, and hospitals running smoothly. Water is essential to life, and plumbing professionals are in high demand anywhere there is a water supply.
A plumbing career can be complex and rewarding, involving many different types of skills and knowledge. Some plumbers specialize in pipefitting and pipelaying, while others work with commercial or industrial plumbing. Some plumbers even choose to become sales specialists. Whatever specialty you choose, there are plenty of opportunities for you to grow in this profession. You can begin as an apprentice, progress to a journeyman, and eventually, become a master plumber. Master plumbers earn the most and have the opportunity to work on large, innovative projects.
As the demand for plumbing professionals increases, plumbers can work in a variety of jobs. Some plumbers may become teachers or instructors at local colleges. Others may choose to work independently or as subcontractors. There are also many opportunities for plumbing professionals in other fields, such as building services, estimating, and construction.